Agility in Mind is an award-winning business agility transformation consultancy that works with ambitious organisations, which face challenges because of their scale or their desire to scale, to increase their competitive advantage.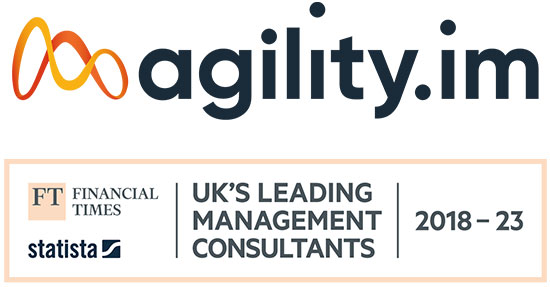 Our passion is to help organisations succeed by shifting the mindsets of those within the organisation so that they can respond with more agility to changes in the environment in which they operate and equipping them with agile principles and practices as an enabler for change.
We're trusted by successful global brands and are known for our hands-on approach and bespoke recommendations that have an impact on their businesses and ultimately for the benefit of their customers, employees and investors.
Ways we can help achieve your transformation:
Business Agility Transformation – developing a culture where responding to change is second nature.
Agile Transformation – using agile principles and practices to achieve business agility.
Agile Leadership Training – working closely with the leadership teams to show how their thinking and behaviour can change to support the ambition of the organisation.
Agile Coaching – working closely with individuals and teams to build confidence and effect change.
Agile Training – rapidly equipping teams and individuals with new skills and beliefs
Agile Leadership Scorecard
Agility in Mind designed the Agile Leadership Scorecard to show organisations their leadership blind spots and provide instant, actionable steps on how to improve
View the scorecard
Take a look at our playbooks and case study to see how the Agility Lighthouse could help you
>> Mr and Mrs Smith Case Study