Accelerating the digital transformation journey with Grant Thornton UK LLP
Organisations are facing a number of challenges brought on by COVID-19, Brexit, economic uncertainty and resulting cost reduction agendas. Fundamental change will help organisations retain clients, reduce cost, and achieve a sustainable digital transformation.

The Digital Maturity Assessment (DMA) enables organisations to diagnose their digital maturity and establish a recommended path towards improvement. It evaluates how well clients have incorporated digital into their operating models, and how effective they are at engaging their customers and executing digital initiatives to drive long term business model sustainability and profitability. We work with each of our clients to configure their optimal digital maturity state considering customer drivers, legacy, strategic ambition, industry positioning, competitor positioning and regulator direction.
About the Digital Maturity Assessment
The DMA evaluates how well organisations have incorporated digital into the operating models and how effective the execution of digital initiatives is to drive long term business model sustainability.
The Digital Maturity Assessment (DMA) model based on six distinct dimensions that are critical for business and transformation success.
Customer
Explores your organisation's approach to the customer. The customer needs to be at the centre of your digital journey and it's important to understand the level of customer engagement and ability to develop a channel strategy that meets the needs of customers.
Culture
Explores your company's approach to corporate culture, open communication and effectiveness in empowering employees in the decision-making process.
Sustainable operating model
Explores how people, processes and technology are organised within your business, to achieve sustainable strategic business objectives, whilst placing the customer at its core.
Capabilities
Explores the level of digital expertise within your business, and how you empower employees with technology to support digital strategy and execution.
Data
Explores the level of focus on data as part of the digital journey covering developing and effective data strategy and data management, through to the use of data analytics and data science to create value.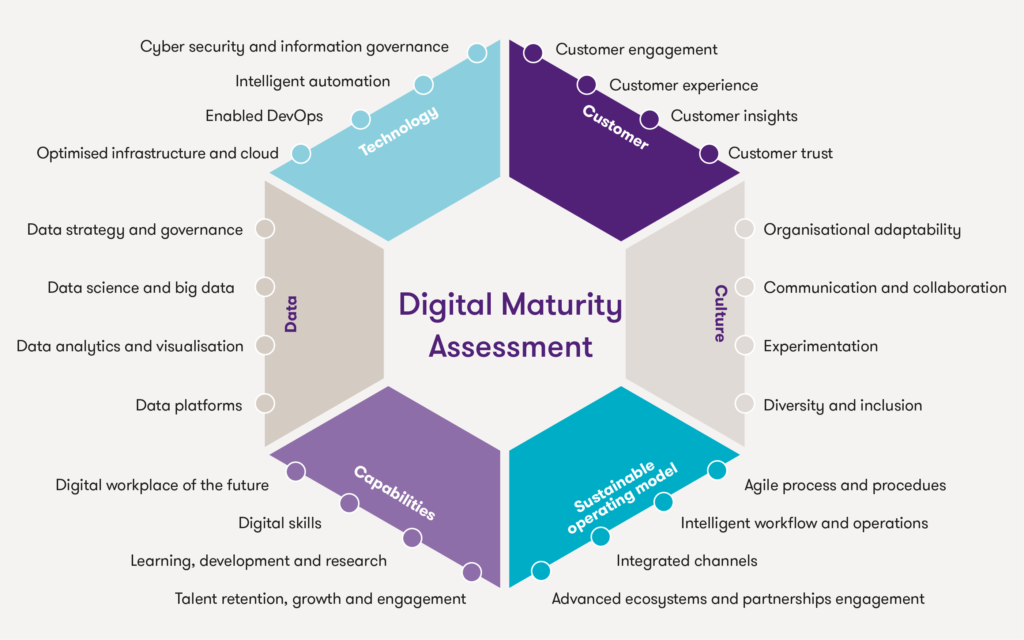 Technology
Explores how effectively digital concepts are being implemented within your business, and how they are being used to develop products and services. This will enable you to diagnose your digital maturity and establish a recommended path towards improvement.

The benefits of the Digital Maturity Assessment
An effective digital maturity model will help you make the most of your digital propositions and maximise the value of investment in digital transformation programmes.
Recommendations from undertaking the Digital Maturity Assessment will be aligned with your digital strategy and seek to address four critical benefits and value drivers:
Customer centricity
The challenge is to develop an integrated, digitalised, personalised customer journey covering all customer segments. Developing an integrated omnichannel experience for customers to interact and engage proactively will be an important differentiator for organisations.
Cost reduction
Reducing discretionary spending will include prioritising manual activity automation and leveraging efficient operations and workflows across all front-office, middle office, and back-office processes. Cost efficiency in essential risk, regulatory, resilience and cyber activities will also be a focus. Leveraging smart data platforms, RegTech tools and intelligent automation enablers will provide cost-efficiency returns.
Risk and regulation
Firms face increased risk and regulatory challenges, especially in the cyber, fraud, financial crime, resilience, and Brexit regulatory divergence components. The ability to select and use integrated automation and data analytics software (including RegTech) can reduce compliance risks and streamline processes.
Value creation and protection
As clients respond to economic conditions, maintaining value is a key theme. The ability to optimise digital channels, data underpinned by efficient automation and technology will create a competitive advantage.

It's essential for any firm to grow and stay ahead of the competition. Drawing on specialist expertise and partnerships we can help you strengthen your model and embed digital solutions sooner.
The outputs are customised reports with clear quantitative observations which inform clients on a potential future digital roadmap
If you would like to discuss how undertaking a digital maturity assessment can transform your digital transformation, please contact Grant Thornton UK LLP.

About Grant Thornton UK LLP
Grant Thornton UK LLP is one of the world's leading organisations of independent assurance, tax and advisory firms, and provides a leading end-to-end suite of services. Our proactive teams use insights, experience and technical excellence to understand complex issues for privately owned, publicly listed and public sector clients – helping them to find sustainable solutions.
More than 56,000 Grant Thornton UK LLP people across 140 countries are focused on making a difference to clients, colleagues and the communities in which we live and work. We've got scale, combined with local market understanding. That means we're everywhere our clients are, as well as where they want to be.
The UK Grant Thornton UK LLP member firm is led by 190 partners and employs over 4,500 of the profession's brightest minds. We help organisations navigate today's changing markets and have a strong focus on quality and delivers insights to succeed.
Find out more about digital transformation in finance at www.grantthornton.co.uk/ Twitter: @GrantThorntonUK LinkedIn: Grant Thornton UK LLP